POP Idol Gareth Gates made a fleeting appearance in Swindon at the weekend to support his favourite cause.
The television talent show winner, who has had four number one hits, was making a special appearance corner of Canal Walk and Regent Street to help support the work of the McGuire programme, a project which helps those who stammer improve their speech and gain confidence to talk.
Gareth, 21, from Bradford, has been though the McGuire project himself and famously had to work hard to overcome a stutter.
Along with a supporting crowd of dozens, he cheered on students of the McGuire course held in Swindon over the past week as they spoke in public, many of them for the first time.
Becoming a regular visitor to the town as a result of the McGuire programme, he said: "It's great to be back here in Swindon for the second time this year and I just want to say thank you to all the students taking part on the course for working so hard."
Gareth also visited in February as part of the Maguire project.
This time he found some time to say hello to fans, but there was none of the shouting and screaming normally associated with pop stars and he remained steadfast in helping as many of the McGuire graduates in their public speaking as possible.
One fan said: "I didn't recognise him at first, but it was great to see him working for a good cause."
One of the students on the McGuire course was Kriston Wright, 28, who stood up in front of the crowd and said that the course had helped.
Kriston, who is an airframe engineer with the RAF at Lyneham was on his first McGuire programme course.
After his speech he said: "I have been stammering as far back as I can remember, so being able to speak like this has had a big effect on me.
"The course is very hard work and at times you feel like you are going backwards, but I could not have done what I did today, and it's a huge impact on my life.
"I cannot thank the crowd enough, they were excellent and really drove me on, and it's been really worthwhile."
Matt Wilton, regional director of the McGuire Programme in the UK said: "Some of these people could not even pronounce their name last Wednesday, and now they are speaking in public. They have made great progress.
"The crowds in Swindon have been amazing.
"It's like having a whole group of speech therapists helping out ­ by asking our students simple questions people have been really helping to improve their speech.
"The course aims to help everyone, and everyone is treated the same from chimney-sweeps to pop stars of all ages."
The McGuire Programme works by teaching those with speech impediments, and in particular stuttering. The course works by getting people to breathe differently releasing the vocal chords.
Students are then sent onto the streets as a public speaking exercise asking people for directions to build their confidence.
__________________________________________________
That's the article & here's the drop dead gorgeous picture that accompanied it.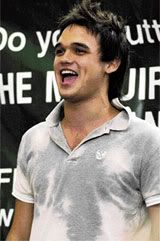 PHWOAR! Isn't it AMAZING?! I know my jaw dropped when I first saw it, I really think he's looking sexier than ever, I love his hair like this and I really hope he keeps it this way. It's stunning. <3
Also in other news Gareth's 2006 calendar can be pre-ordered on www.calendarclub.co.uk :D I can't wait to get my hands on it & look at all the sexy pics. Here's hoping for a topless one. ;)
& Gareth left a birthday message on the homepage of www.ggates.co.uk for those of you who don't know. It's well worth a look, it's a wonderful message, he is really sweet and funny in the vid and of course he looks amazing as always.
-Sharon, forever and always a diehard Gareth fan.