With thanks to ggates.co.uk for all this.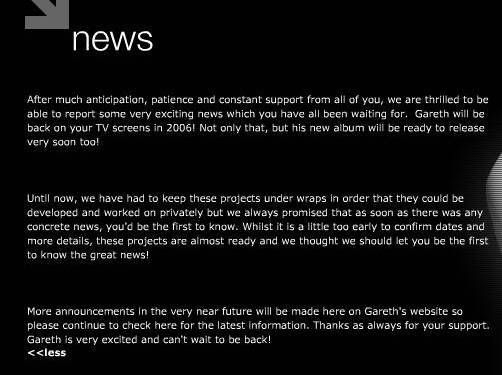 So far articles are saying that Gareth is doing a documentary, this seems to be the general gist of what is being said:
"Gareth Gates is to launch a come back- with fly-on-the-wall documentary about his rollercoaster life.Ex-choirboy Gareth,22,who suffers from a stammer,won the hearts of the nation when he appeared on TV 's Pop Idol show five years ago,ending as runner-up to pal Will Young,27.
He later had No.1 album and seven top 10 singles but his career slumped when his second album failed to sell well and solo tour flopped.He then lied over claims by 28-year old glamour girl Jordan that he had taken his viriginity. Gareth was dropped by his record company earlier this year but has since been working on a more mature image and new sound, as the ITV documentary will show when it is screened just before Christmas.
Gareth, who is dating dancer Suzanne Mole,30,said: "To sell over a million singles at just 17 is a dream but nothing prepares you for the pressure.The past five years have been a real rollercoaster and i hope this show lets people see the real me."
Here are snippets the ITV people have said according to other articles:
"A spokesperson for ITV1 said the hour-long programme will 'showcase some of Gareth's new music as he prepares to re-launch back into the spotlight to do what he loves most'.
The ITV1 spokesman added: "This prime-time footage will show the impacts and consequences that fame thrusts upon artists hoping to survive successfully within the pressures of the music industry."
Also here's a recent picture:
I cannot wait! :D